Our Services
Enjoy your stay at Doni Apartments in Ksamil Saranda
Doni's Apartments – Ksamil Albania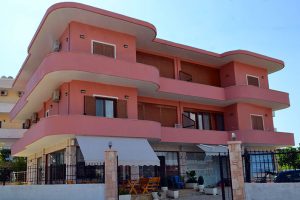 Built in the heart of Ksamil Village, a short walk from the famous Three Islands beach, "Doni Apartments" are the perfect holiday location for travellers in Albania.
The town centre with its bars, coffee shops and restaurants can be reached by foot in less than five minutes.
Doni Apartments offer top quality self catering accommodation all year round for couples, families and large parties, just a stones' throw away from the famous beaches of Ksamil. There are six three bedroom apartments, sleeping up to 6 people. All are finished in a sleek, contemporary style to the highest standard.
Whether you want a relaxing beach break, easy access to the town of Saranda, or a holiday full of history and culture, Ksamil is for YOU! For more information on prices and availability, please contact us by email: info@doniapartments.com or call us.
  I was seriously impressed with the size of the apartments compared to many other holiday apartments we have seen. This apartment was huge! Doni, the owner, was incredibly helpful and ready to attend to our every need. This is definitely a place we will come back to again!
I stayed at Doni Apartments for three nights with my husband and 4 other adults and a baby. The apartment was huge and easily accomodated all of us. The manager was really helpful and very friendly. The apartment was great value compared to other hotels/apartments we had looked at online. The beaches at Ksamil are incredible - I recommend exploring some of the different beaches.
I stayed with my friends for 4 days in Doni Apartments which were superb. They are brand new and very clean and modern. The location is brilliant, within walking distance to the beach and close to lots of local bars and restaurants. Our balcony had a stunning view! Nothing was a problem for the owners who were willing to help all of their customers. There is a supermarket on the ground level of the apartment block so everything we needed was easy to obtain. Very Relaxing holiday, and we'd definitely recommend these apartments. Will probably be back next year.